Man vs. Wild Reboot Features Bear Who Ate Bear Grylls
Social media has been abuzz about "Bear vs. Everything," an upcoming reality show featuring an unlikely new star: the grizzly bear who ate Bear Grylls.
MISSOULA, MT—"Man vs. Wild" host, Bear Grylls, was slain by a grizzly bear last June while filming the first episode of a series reboot. The tragic event left many of the crew feeling hopeless. "You can't keep making a show called 'Man vs. Wild' when the man is killed by the wild. That changes the whole paradigm. The wild wins, man loses. Show over," said Discovery network executive Carl Brimfield.
But it turns out the show wasn't over. It was only getting a facelift. A rather furry facelift. "At first, when  I saw that bear eating our star I was freaking out thinking 'oh no, my career is over, this is horrible,' but then I realized there was something big happening right in front of my eyes. It was the shift this show needed all along," said producer Brad Schulz who had discovered the furry up-and-comer. As filming began, Grylls was completely isolated a half mile outside of city limits, forced to survive with nothing but a pocket knife, twenty-four-person film crew, and catering staff. Grylls was explaining how to start a fire using plucked armpit hair when the bear charged at him from the nearby woods. When the bear started to devour Grylls, "it was magic," Schulz said. "You could tell there was something special about him."
Cinematographer Alan Donaghue agrees: "The grizzly walked in and there was an immediate hush among the crew. He was confident, but not arrogant. Such a natural on the camera."
Schultz says what really confirmed the beast's natural talent for him was when he heard several of the caterers also shrieking as the grizzly helped himself to the freshly prepared salmon and their sous-chef. Recognizing the bear's penchant for a variety of food and people, Schultz kept the cameras rolling as it ambled into town and began to sample the various residents. "He was like Anthony Bourdain and Bear Grylls all in one." Schulz immediately called network execs to tell them he'd found their new star, and that Bear Grylls was dead.
The network wasn't as sure about the new star as Schulz. But when Discovery aired the episode where Grylls gets eaten as a one-off special titled "Man vs. Wild: Wild Wins," they had an instant hit. "The bear tested far higher than Grylls ever did. Viewers loved him," said Brimfield. The network signed a six-season deal with the bear immediately.
The new show "Bear vs. Everything" features the bear who ate Bear Grylls being released into various cities and subcultures, eating people at random. The show has scored 98% on Rotten Tomatoes and hasn't even aired yet, which is unprecedented, especially for a bear.
"Imagine this bear, who's just walking through the forest one day, and the next day he's a big celebrity with his own TV show," Brimfield said. "That's the kind of stuff that can only happen in America. Maybe Canada too. I don't think grizzly bears live anywhere else. Oh yeah, Russia. Maybe anywhere with zoos. I'll get back to you on this."
For those who may feel some loss that Bear Grylls won't be able to continue entertaining us with his survivalist advice, Schultz hopes to put your mind at ease: "Bear Grylls may be gone, but he will always be a part of our new star," adding, "The kid has heart. Bear Grylls' heart. I saw him chewing on it for like eight minutes."
"Bear vs. Everything" is set to premiere Thursdays on The Food Network next year.
A funeral for Bear Grylls will be held this Friday at St Francis Church in Ballyvester, Ireland.
---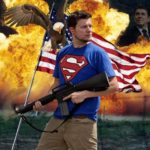 Chris Cowan is an award-wanting podcaster, writer, and pursuer of other hobbies, living out his childhood dream of being a low-level manager for a major corporation.