10 Lies About Bear Encounters You Still Believe
There's a lot of misinformation going around about what to do in a bear attack, what can or cannot be done to protect yourself, and whether or not anyone can actually survive being attacked by a bear. Do you believe the lies? Probably. Most people do. That's why today we're going to set the record straight on ten lies about surviving a bear encounter.
Lie #1: Play Dead
You can't fool a bear by playing dead. Bears don't believe a thing is dead until its body parts are scattered in the four corners of the forest, head on a post at the forest entrance and intestines strewn like party streamers in the branches of the trees. Unless you think you could survive that, playing dead isn't going to get you very far with a bear.
Lie #2: Try to Make Yourself Look Bigger
I would love for someone to explain to me exactly what you do to make yourself look bigger than a 1000 pound beast who could eat your entire family and still be hungry. Putting your arms and legs out as far as possible just makes you look like a person who was doing a jumping jack then got stuck that way. Bears are not afraid of people who look like they got stuck doing jumping jacks.
Lie #3: Bear Spray
There is an entire industry that is built on the lie that bears can't stand a little burning in the eyes. In truth, this only makes the bear more furious. In fact, the only advantage of bear spray is that, since you are in a situation where you will be killed by a bear anyway, at least it will kill you faster because you ticked it off.
Lie #4: Try to Fight Back
Name one fighting move that can stop a bear. I'll wait. You're drawing a blank, aren't you. Of course, you are, there are none.
Lie #5: Guns
One of the oldest myths concerning bears is that you can shoot them with guns. Let's clear this up here and now. No, you can't shoot bears. Bears have an innate ability to dodge bullets no matter how fast they are coming at them. Other bears will swat the bullets back at the shooter using their paws. In rare instances, a bear will jump on top of the bullets, surfing on them, causing them to change course and fire directly back into the person who fired them. In any case, firing on a bear only guarantees that the bear will cartwheel, somersault and flip over the bullets and kill you on the spot.
Lie #6: Atomic Bombs
Let's set the record straight right now. There is no bomb that can kill a bear. Explosions only make matters worse when it comes to bears. Bears possess a unique self-defense mechanism when they are torn into tiny pieces by any kind of a blast. The small parts of the bear instantly regenerate into a whole other bear. The more pieces the bear is blown into, the more bears the explosion produces. This is why, of all bombs, the worst bomb to use on a bear is the atomic bomb. Vaporizing a bear basically turns every single one of the bear's molecules into another, angrier bear. Even worse, bears generated by atomic bombs are twice as fast, can leap thirty feet into the air, can see through walls and breathe green fire.
Lie #7: Not Everyone Will Be Killed By A Bear
This is only kind of true. Of course, some of us will die from falling off of skyscrapers, slipping and falling in the shower, clinical illnesses and being crushed by falling semi trucks. But the majority of us will be killed by bears at some point. This is one of those hard truths people have a tough time accepting. Life is short, enjoy it while it lasts. Bears will kill you.
Lie #8: Eventually Mankind Can Relocate to Another Planet
People like to put a lot of hope in the future. We assume that, because we are the only planet with life on it, the universe is ripe for expansion and that, in due time, mankind will relocate to other planets where bears are not a threat. This backward thinking is why the bears will win. The truth is the reverse of everything we have believed: Every planet was one teeming with life. What happened? Bears. Why are we the only survivors? Bears saved us for last. Nobody knows why; that's just how it is.
Lie #9: At Least You Have the Afterlife to Look Forward To
Many people take comfort in the belief that there is life after death. It's true that, in most instances, when you die there is an afterlife. But not with bears. Scientists have recently discovered that bears possess two stomachs. One digests meat, the other digests the soul, keeping the beast's prey from ever passing on to the afterlife.
Lie #10: There is no escape
I bet you were beginning to lose hope. Well, there is a little, tiny glimmer of hope. There is one way to escape a bear quickly. It can happen based on your diet or genetic makeup. The quickest way to escape a bear is to give it diarrhea. You will escape out of its butt much faster than the person who gives it constipation. (Your soul, however, will never escape)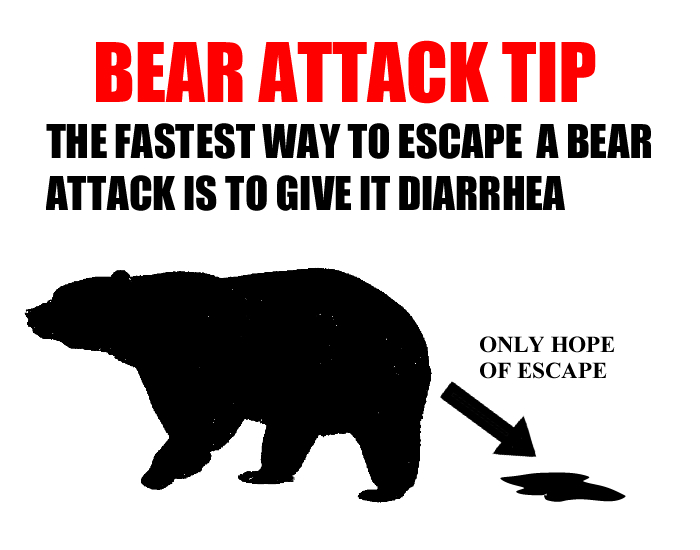 Please share this list with your ignorant friends who have swallowed the lies about bears we've all believed our whole lives. It's time for the misinformation to stop. That can only happen if we all spread the word and accept the cold, hard truth. The bears are going to win.
---
Author of
Bearmageddon, Axe Cop 
and the upcoming
Dickinson Killdeer's Guide to Bears of the Apocalypse: Ursine Abominations of the End Times and How to Defeat Them.
Read the shocking true story of Bearmageddon today: